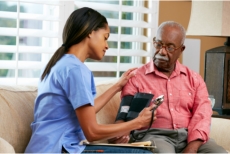 Skilled Nursing may be provided round-the-clock if preferred by the client. With On-Call Skilled Nurses from H&A Hospice, Inc., we are able to successfully deploy staff any time of the day, any day of the week.
Skilled Nursing may include but is not limited to:
Diabetes Management
Dressing Changes and Wound Care
Family-Patient Health Teaching
Incontinence Management and Catheter Care
Infusion Therapy
Medication Instruction and Management
Pain and Symptom Management
Respiratory Care
Surgical Aftercare
You may reach any of our on-call nurses by calling 805-583-3565. Thank you for trusting H&A Hospice, Inc. with your loved one's health.