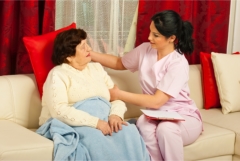 Our Hospice Care Services
We offer a wide range of home hospice care programs for patients with life-limiting illnesses. With the gentlest of hands and the most patient of hearts, we seek ways to give you the utmost comfort at home. H&A Hospice, Inc. understands that this is the most difficult time for you and your family. In every way we can, we will give you the supportive care and counseling you require as you go through the strenuous stages of your diagnosed disease. Here are the programs we offer to clients and families:
Hospice Care Criteria
We provide hospice care to clients who have been diagnosed by the attending physician with a terminal illness. Hospice is the suitable choice for families and individual patients when aggressive curative treatment could no longer achieve recovery. At this point, we focus on helping the client become more comfortable at home as he or she deals with the symptoms of the progressing disease. In place of rehabilitative care, the team will focus on palliative techniques.
H&A Hospice is able to accept referrals from the following sources:
Physicians
Hospital Personnel
Families and Friends of the Patient
To submit a referral online, go to our Referrals form.
Your Hospice Care Plan
The care plan will be adjusted to your needs at home. We try our best to keep you comfortable through pain management and palliative care techniques. The following services may be included into your specialized care plan:
Nursing Services
Social Services
Dietary Counseling
Physical Therapy (as needed)
Speech Therapy (as needed)
All medications relating to hospice diagnosis
Medical Supplies
Inpatient Care
Respite Care for Caregivers
Bereavement Support
Volunteer Assistance
Admission to Hospice Care
Please call our office for assistance and a nurse will visit you or your loved one at home or in the care facility you are currently admitted in. Our staff will provide you with all the information you need to decide whether or not hospice care at home is your best and most appropriate option.
If you and your family have decided to receive hospice care, a nurse from H&A Hospice, Inc. will coordinate with your attending physician so that a specialized care plan can be made to address your palliative care needs. We will also set the schedule for hospice care provision in your home.
To begin with hospice care services soon, please call 805-583-3565.
H&A Hospice, Inc. has higher percentage than national average from patients for Satisfaction Survey.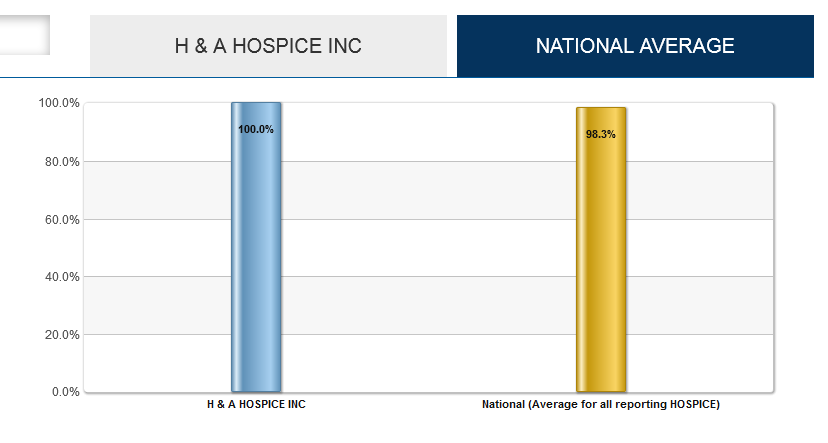 https://www.medicare.gov/hospicecompare/#profile&pid=551520&previousPages=results