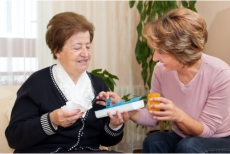 H&A Hospice, Inc. has fostered and nurtured a wide network of hospice care professionals and medical equipment distributors. We understand that being able to provide quality hospice care involves both people and technology. We already have the best staff to care for you, so we pair them with state-of-the-art equipment and medications in order to effectively address your health management needs at home.
H&A Hospice, Inc. is able to provide for:
Medications
Durable Medical Equipment (DME)
Health Care Supplies
Training in the use of DME
Training in the maintenance of DME
Find out more about hospice care services and how to arrange for services. Our staff will be happy to help you. Call us at 805-583-3565 today!