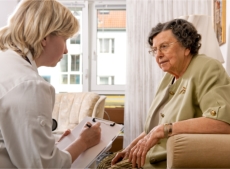 We always include you and your family in deciding what's best for your health as the disease progresses. To support you through this very difficult time, H&A Hospice, Inc. will provide patient and compassionate staff that will assist you and your family.
Our Medical Social Workers and Spiritual Counselors are able to provide:
Assistance in Coping with Loss and Change
Assistance with Advance Directives (Power of Attorney for Health Care or Living Will)
Community Resource Planning and Coordination
Crisis Intervention
Grief Counseling
To speak to any of our counselors or medical social workers, please call the H&A Hospice, Inc. office at 805-583-3565. We have staff standing by to help you 24/7.