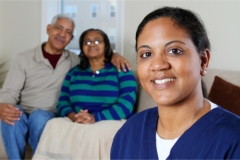 H&A Hospice, Inc. is a privately-owned and operated provider of hospice care services in LA County, Orange County, San Bernadino County, Riverside County and Ventura County. We feel that we are able to fulfill our responsibility to the community by caring for fellow citizens who are ailing with life-limiting illnesses. Our job largely involves making them feel more comfortable and as pain free as possible during this difficult time.
We work with a purpose to administer proficient and compassionate end-of-life care to patients and their families through our quality team of hospice professionals. Our interdisciplinary team consists of:
Medical Director
Co-certifies terminal prognosis with the attending physician; participates in the development of a specialized care plan for the patient; provides the family and the patient with consultation services regarding pain and symptom management; can coordinate with other physicians and health care experts upon request.
Attending Physician
Responsible for the patient's medical care.
Registered Nurses
Provides support to the family and the patient; administer interventions and nursing care techniques in accordance with the physician's prescribed plan of care.
Social Workers
Offers the client and family members with counseling as well as assistance in accessing community resources that are relevant to symptom control, pain management and coping with changes/loss.
Volunteers
Hospice volunteers are able to provide assistance with program administration, companionship, friendship and any other form of support for the patient/family.
Chaplain
Offers spiritual counseling and support based on the family's religion or beliefs; consultations with the family or the patient.
Home Health Aides
Assists the clients and the family with housekeeping, personal care; assists the registered nurse or the physician in the administration of the hospice care plan.
Registered Dietitian
Offers nutritional counseling to the patient; plans appropriate meals that will help alleviate the patient's condition.
Bereavement Support
Offers professional counseling and support to grieving family members. We expertly provide bereavement support to individuals who are deeply affected by the loss of a loved one.